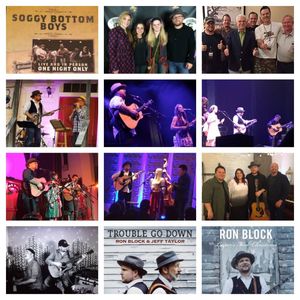 Thanks to all of the friends and fans who support my various and sundry musical adventures. It was a busy year, and I'm grateful for the opportunities I was given. 
Here are just a few of the highlights: 
Released two recordings - Trouble Go Down, with Jeff Taylor, and my own Leiper's Fork Christmas. 
Performed on Woodsongs in Lexington. 
Played shows with the Soggy Bottom Boys in California, Virginia, North Carolina. - Dan Tyminski, Barry Bales, Stuart Duncan, Mike Compton, Pat Enright, Jerry Douglas. These guys are a blast. 
Taught banjo at Jack Hatfield's banjo camp in Gatlinburg, Tennessee. 
Taught banjo at Sore Fingers in the U.K., and I'm going back this year to teach advanced guitar. A great bunch of folks.

Played banjo on four songs on Kate Rusby's Life in a Paper Boat - always a certifiable thrill to be a part of such great music. Life in a Paper Boat has gotten a lot of attention for Kate, and deservedly so. Great songs, top singing and playing, and out-of-this-world arranging and production.
Played my own shows in the U.K. with Sierra Hull. We played Kate Rusby's Underneath the Stars Festival, the Summertyne Americana Festival at the Sage in Gateshead, and shows in Tamworth at the Bolehall Manor Club and Sheffield's Greystone's. In the middle of this trip I recorded half of a collaborative record with Irish banjoist/guitarist Damien O'Kane and guitarist David Kosky at Pure Records out in the Yorkshire countryside. Sierra sat in on some of the sessions on mandolin. 
Played shows with Steve Martin - the band was myself, Stuart Duncan, Barry Bales, Jeff White, and Adam Steffey. 
Played several of my own shows with Clay Hess and Brennan Hess in California and North Carolina. 
Played Red Hat Theatre in Raleigh and the IBMA awards show with the Soggy Bottom Boys. 
Performed a video version of Leaning On The Everlasting Arms with Selah. 
Played with Ricky Skaggs, Sharon White Skaggs, and Leslie Satcher at a songwriter in-the-round in Franklin, Tennessee. 
Played shows with Buddy Greene, and a Christmas show in Macon, Georgia with Buddy and Jeff Taylor. 
Played Andrew Peterson's two Nashville Behold the Lamb of God shows. 
Played with Alison Krauss, Jamey Johnson, Melonie Cannon, and Jim "Moose" Brown for Dolly's Smoky Mountains Rise telethon. 

Played on Alison Krauss's new record, Windy City, and on her videos featuring four songs from the record.
Played on Marc Martel's version of What Child Is This? and was featured in his video. I had the most hilarious time making it with him. 
I'm looking forward to another year of music!